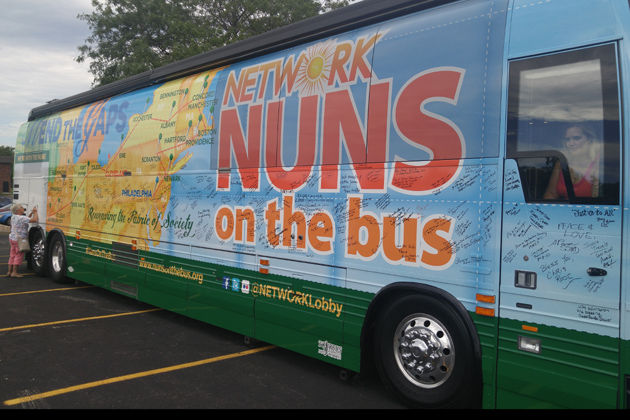 By Carie Kuehn
BLOOMINGTON – NETWORK's Nuns on the Bus stopped in Bloomington on Tuesday afternoon as a part of their 23-city mission tour across the nation.
NETWORK's fifth national tour is named "Mend the Gaps: Reweaving the Fabric of Society" and focuses on the growing inequality between social groups in the United States. One of the main issues the mission focuses on is immigration and citizenship.
"We have about 53,000 undocumented immigrants in Central and Southern Illinois that we represent," said Jasmine McGee of the Immigration Project. "We know that most have been here over ten years, most of them have U.S. citizen children, they're between the ages of 34-44, they own houses and they pay taxes."
The bus tour runs July 11-29 and includes around 20 Catholic sisters. The bus is going over 2,400 miles and meeting with communities, individuals and families to bring the message of the mission.
"It's going to be up to us. Our politicians try, but they try to get re-elected as opposed to trying to help us come together," said Sister Simone Campbell. "It is up to us to come together, it is up us to do the hard work of advocacy advocacy, it is up to use to mend the gaps."
In addition to community outreach, the group will also be talking about their message at both the Democratic and Republican Conventions. The tour moves on the Springfield tomorrow.
Carie Kuehn can be reached at carie.kuehn@cumulus.com.