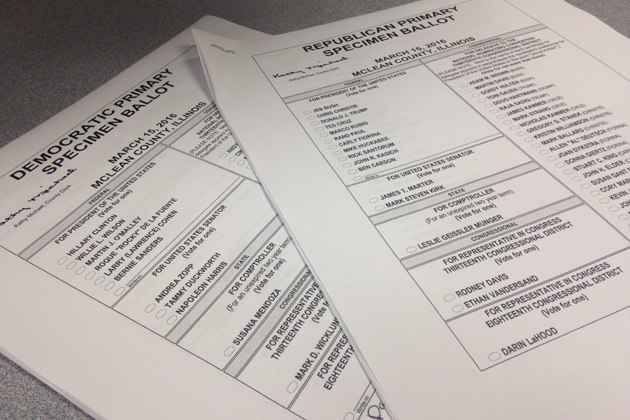 By Greg Bishop/Illinois Radio Network
SPRINGFIELD – Last week was the first week that political parties other than Republicans and Democrats were able to circulate petitions to get on the November ballot in Illinois, and candidates are pointing out the large disparities in the process.
Libertarian candidate for state comptroller Claire Ball said she has to get at least five times more signatures than her Republican and Democrat opponents, which is 25,000 signatures — a big undertaking.
"We're going to be out there every single day hitting up every train station, every event, every festival, just gathering signatures," Ball said.
Meanwhile Rich Whitney, who ran as the Green Party candidate for governor in 2006 and 2010, said the process for new parties is like the Greek myth of Sisyphus.
"It's like rolling that boulder up the hill and then it rolls back down over you and you have to start over again," Whitney said.
As the Green Party candidate for governor Whitney, was able to get more than 10 percent of the vote in 2006, securing the Green Party as an established party. But in 2010 the party got below the threshold, which removed the party's established classification.
Meanwhile new-party candidates say the problem isn't just the disproportionate number of signatures they have to collect to get on the ballot, it's also the months of missed political media coverage.
Per Illinois election law, new party candidates were allowed to circulate petitions beginning March 29. That's two weeks after the March primary and nearly four months after Republicans and Democrats could begin collecting signatures and generating media coverage.
Libertarian candidate for U.S. Senate Kent McMillen said that missed media time is detrimental to fully informing voters. "They only focus on who is the most well-known or who makes the most outrageous statements," McMillen said. "I believe that's a disservice to the voters."
Meanwhile Whitney said Illinois' system is extremely unfair for parties other than Democrats and the GOP.
"It's a tilted playing field," Whitney said. "That's what we have in the American political system today and nowhere is it more tilted than in Illinois."