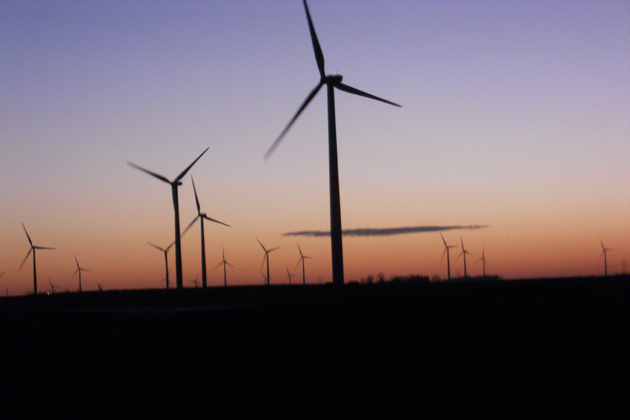 By Jim Fischer
I was sitting my living room this past week. The sun setting low on the horizon when I notice a bright light from the sun reflecting off the newly fallen snow onto the wall of the room. I was sitting there day dreaming as I watched the beam of light ever so slightly moving into the corner. Then it started. Right there in the in the confines of my living room: Shadow Flashes. Those evil shadows that jump across the light of a beautiful scene. Or across the road as you are driving causing you to jump at the steering wheel of your car because you weren't expecting the darkness as it leaps from the side of the road. Not knowing if it was an animal, another vehicle or a source if evil. You never get used to them; they startle you each and every time. And now they have entered my private dwelling. They are Evil and their source is evil as well
Those horrid wind generators.And their blasted propellers spinning across the shining light of the sun. And that's not all.
My once quite little house on the prairie has been changed to as if I was living in the middle of a freeway. The whoosh whoosh whoosh of the spinning blades sounds like the passing traffic at highway speeds. Then there is the constant GRRRR of the turbines that have replaced the gentle song of crickets in the summer evenings or the melody of song birds
I used to have beautiful Starlit nights where you could shut off all the porch lights and gaze to see the beautiful constellations and the occasional meteorite blazing across the sky. Now all you see is flashing red lights from the towers of the generators
The very definition of pollution is: "the introduction of contaminants into the natural environment that cause adverse change.[1] Pollution can take the form of energy, such as noise, heat or light." And those wind generators are a major source of those pollutants.
But those wind generators have created additional pollution. A new form of contaminate.When the sun shines during the day you have the shadow flashes jumping across the windshield of your car as you take that country drive. Or now as they enter into my living room disturbing my beautiful thoughts once inspired by the sun setting on the now contaminated horizon.