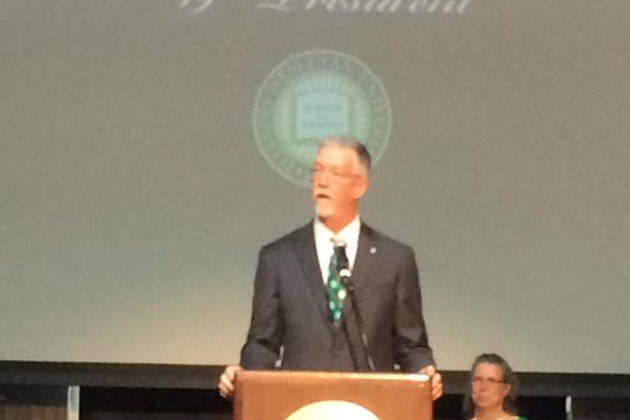 By Adam Studzinski
BLOOMINGTON – Illinois Wesleyan University on Monday announced Eric Jensen as its 19th president.
Jensen will replace current President Dick Wilson who in December 2014 announced his retirement from Wesleyan after 11 years as president. Wilson will officially step down at the end of October.
Jensen said he's proud to have been selected.
"I was asked as part of the process, 'Why Illinois Wesleyan?' My answer was partly instinctual," said Jensen. "It felt like home being on campus. I felt like I belonged walking around.
"It felt right because the members of the community that I had a chance to meet, beginning with the search committee, and culminating with those that we saw on our campus visit, were dedicated individuals."
Podcast: Jensen spoke with WJBC's Eric Stock following Monday's announcement.
Jensen comes to IWU from Hamline University in Minnesota where he has served as provost since 2012. During that time, he oversaw undergraduate and graduate programming, academic advising, student affairs, intercollegiate athletics, the libraries and the international and diversity programs.
Jensen added he looks forward to working with his new team.
"This is a complex organization with many moving parts and it takes a team to make it go," said Jensen. "More broadly, I've got a lot of faculty, staff, students and alumni to meet and to get to know."
Wilson congratulated Jensen on his selection.
"You are joining a community of talented faculty, staff, and students who will quickly expend a hand of friendship and support to both of you," Wilson said.
Jensen was selected after a nationwide search which began in February.
Adam Studzinski can be reached at adam.studzinski@cumulus.com.