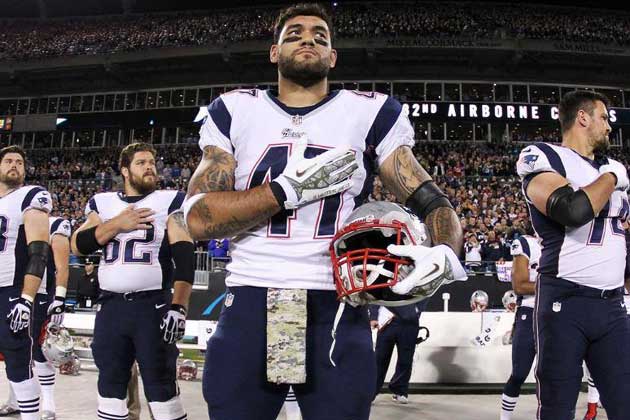 By Eric Stock
BLOOMINGTON – A Super Bowl champion is coming to Bloomington.
Michael Hoomanawanui starred at Central Catholic and the University of Illinois before winning a Super Bowl with the New England Patriots in February. He'll be the keynote speaker at the annual State Farm Student Athlete Recognition Banquet on June 21.
"Years ago, Gatorade had that commercial 'Be Like Mike,' " State Farm's John Althoff said. "Even though that was for Michael Jordan for these students athletes they can aspire to get to the highest level and be like Michael Hoomanawanui."
He told WJBC's Scott Laughlin, Michael plans to have his Super Bowl ring for all to see.
The banquet will also recognize the top high school students, coaches, volunteers and teams at the event at the DoubleTree Hotel and Conference Center. Tickets cost $25 and can be purchased at the Bloomington-Normal Area Convention and Visitors Bureau at (309) 665-0033.
The finalists are here:
Female Athlete
· Chante Stonewall – U-High
· Keely Theobald – Normal West
· Taylor Clugston – Bloomington
Male Athlete
· Nick Patkunas – U-High
· William Tinsley – Ridgeview
· Arion Worthman – Normal West
Female Scholar Athlete
· Addison Ely – Central Catholic
· Lindsey Kieser – Normal West
· Carolyn Peters – Normal West
Male Scholar Athlete
· Jared Collier – Bloomington
· Joseph Bevilacqua – Central Catholic
· Michael Mounce – El Paso-Gridley
Female Team of the Year
· Normal Community Volleyball
· Central Catholic Girls Basketball
· U-High Girls Basketball
Male Team of the Year
· Ridgeview Boys Basketball
· Normal Community Boys Soccer
· El Paso-Gridley Boys Golf
Coach of the Year – Female Sport
· Debbie Coffman – Central Catholic Girls Basketball
· Lea Menning – Bloomington Cheerleading
· Christine Konopasek – Normal Community Volleyball
Coach of the Year – Male Sport
· Dave Witzig – Normal Community Boys Basketball
· Ken Colmone – El Paso-Gridley Boys Golf
· John Szabo – Bloomington Track & Field
Sports Event of the Year
· Miller Chill Cyclocross
· Tri-Shark Triathlon
· The Lake Run
Volunteer of the Year
· Kathy O'Connell
· Vinny Mangina
· Todd Keil
Special Olympics Female Athlete
· Ryley Blumershine
· Katherine Harms
· Larissa Beverly
Special Olympics Male Athlete
· Jason Alsene
· Patrick Haynes
· Nathan Simmons