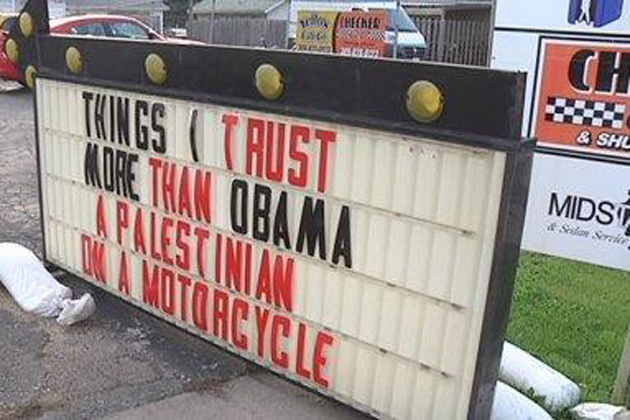 By Adam Studzinski
BLOOMINGTON – An Illinois Wesleyan University professor believed the sign outside Checker Cab in Bloomington is not a joke or a political statement.
Adriana Ponce is from Venezuela, married a Palestinian, and spent five years teaching Palestinian youth in the West Bank. She said the reference to trusting a Palestinian on a motorcycle more than the president is racist.
"This would have been a political statement had he not resorted to the Palestinian on a motorcycle," said Ponce. "That makes it a racist statement, in my view."
The owner of Checker Cab, Aaron Halliday, told WJBC Tuesday morning the sign was meant as a joke. Ponce said the statement is a "gross generalization."
"So, all Palestinians are the same, basically, is the implication there," said Ponce. "The minute you go there you realize that the guy is simply resorting to stereotypes and generalizations, and of course, with a very negative element there."
Ponce added she doesn't even understand the reference.
"If you go to the West Bank you rarely ever see a motorcycle, even in Jerusalem. So that's partly part of his ignorance there," Ponce said.
Podcast: Listen to Ponce's conversation on WJBC.
Halliday said he does not plan to take the sign down until Wednesday.
Adam Studzinski can be reached at adam.studzinski@cumulus.com.