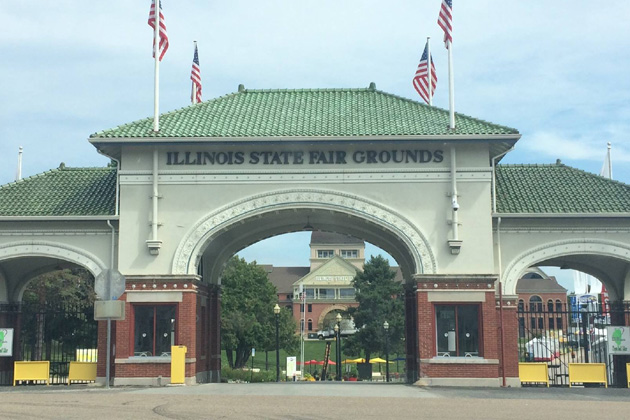 By Illinois Radio Network
SPRINGFIELD – Illinois State Fair officials touted a banner year for this year's agricultural expo in Springfield, but they also reflected on lessons learned about selecting performers for the state fairs.
One of the lessons learned from this year's state fair season was finding the right mix of concerts to boost attendance. Another was looking closely at artists' logos.
Illinois State Fair officials said Springfield's expo brought a record of more than $6.5 million. That came after previous reports of record-breaking attendance and grandstand ticket sales.
Illinois Department of Agriculture Director John Sullivan couldn't say if there was a profit for taxpayers from the fair overall for taxpayers. But the event did bring additional revenue to local businesses.
"Hotel revenues were up … 8 percent," Sullivan said. "The economic engine that this fair drives is tremendous."
One reason for the success was good weather. Another reason, fair officials said, was getting the right mix of music day-to-day.
Illinois State Fair Manager Kevin Gordon said the concert lineup brought in 110 percent of what it cost taxpayers. In previous years the final Sunday featured a symphony, and attendance dropped, he said. Having Reba McEntire perform for the final day of this year's fair made a difference.
"I mean you sell 15,000 tickets to a Sunday night and this place is packed at 9 a.m. and this place is buzzing all day long," Gordon said.
State Rep. Tim Butler, R-Springfield, said the fair was a success. However, there was controversy with the abrupt cancellation of Confederate Railroad from the DuQuoin State Fair while Snoop Dogg's performance in Springfield proceeded.
"Hopefully as we move forward, there would be some clarity," Butler said.
Confederate Railroad was canceled by the governor's office the day before tickets were set to go on sale. Gov. J.B. Pritzker said the Confederate Flag imagery the band had used would not be tolerated in Illinois.
When news spread, people called the governor's office to oppose the cancellation. People also called the governor's office to oppose Snoop Dogg's performance, given artwork Snoop Dogg promoted showing him standing over a body bag with a toe tag "Trump" and the words "Make America Cripp Again." Pritzker defended that as "political satire."
Butler said he expected the governor's office would review what artists were proposed to perform more closely in the future.
Sullivan said that won't be the case.
"The governor's office will not be reviewing contracts," he said. "That will be a decision that we'll make here at the department level … [the governor] has complete confidence with what we do here at the fair."
Sullivan said the controversy wasn't because of the band's name or music, but because of the Confederate Flag logo. He said they'll be mindful of such things moving forward.
As for DuQuoin State Fair numbers, previous reports showed attendance up 23 percent, but final revenue numbers have yet been finalized.
Illinois Radio Network can be reached at News@WJBC.com.