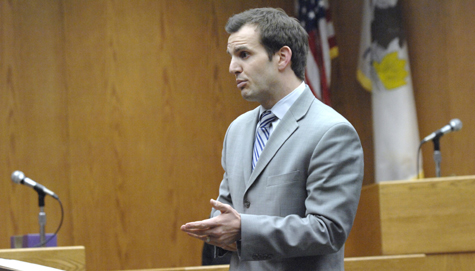 By Howard Packowitz
BLOOMINGTON – The U.S. Attorney's office has charged two local men with conspiring to distribute crack cocaine in the Bloomington area, and a former McLean County assistant state's attorney is leading the government's case against the pair.
Raymone Stephens,30, and 23-year old Khalil Hood, 23, were two of the four men arrested early Friday morning when authorities raided two apartments on East Empire and another on Fairmont Drive.
Stephens and Hood are charged with conspiracy to manufacture and distribute more than 28 grams of crack cocaine, which carry penalties of five to 40 years in prison if they're found guilty. They face 10 years to life in prison if they have one or more prior felony drug convictions.
Leading the government's case is former McLean County First Assistant State's Attorney Adam Ghrist, who became a federal prosecutor in June.
A U.S. magistrate ordered Stephens to remain in the custody of the U.S. Marshals Service. A detention hearing for Hood is set for Thursday.
Investigators said they seized about 300 grams of crack and powder cocaine, approximately $6,900 in suspected drug money, a shotgun, three handguns, and a bullet proof vest.
Federal authorities said the arrests were part of an ongoing investigation by the Bloomington Police Department's Vice Unit and the Drug Enforcement Administration. BPD's SWAT team, the Illinois State Police Tactical Response unit, and the U.S. Marshals Task Force were also involved in the arrests and execution of search warrants.
Two other suspects face charges in McLean County Court.
Howard Packowitz can be reached at howard.packowitz@cumulus.com