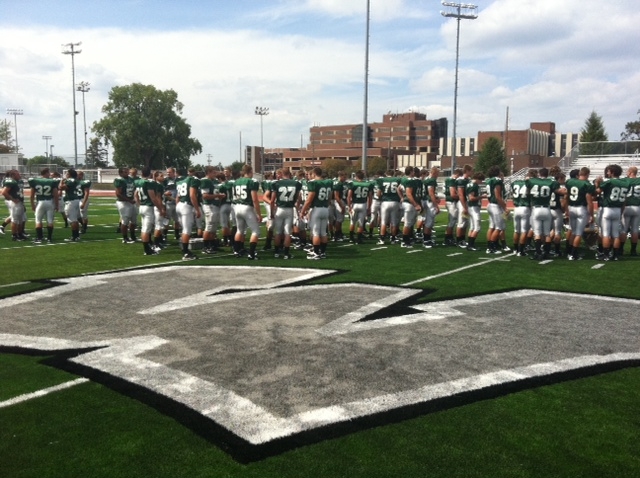 By Greg Halbleib
DECATUR – Illinois Wesleyan used a strong first quarter to set the tone for a 49-26 win over Millikin on Saturday at Frank M. Lindsay Field.
Illinois Wesleyan (7-1, 7-0 CCIW) maintains its hold on first place in the College Conference of Illinois and Wisconsin as Millikin (6-2, 5-2) falls two games back.
Brandon Bauer connected with Jack Healy for 35 yards and Zach Walsh for 8 yards to give the Titans a 14-0 lead after one quarter. Millikin broke onto the scoreboard on a 9-yard touchdown run by Richard Cosey early in the second quarter, but Morgan Alexander drove in from 6 yards out to counter for the Titans. Tyrese Hines caught a 16-yard Nicco Stepina pass to close the Big Blue to 21-13 at halftime.
A 12-yard score by Bryce Dooley and a 5-yard carry by Alexander gave IWU breathing room in the third period with a 35-13 lead, but the hosts answered in the final minute of the quarter on a Stepina-to-Gerald Perry scoring strike from 20 yards. But on the final play of the third quarter, Bauer found Dooley for a 35-yard score to put the Titans ahead 42-20.
Nearly three minutes into the final period, Millikin again struck on a big pass play from Stepina to Jordan Smith from 31 yards, but Illinois Wesleyan extended the lead with 5:35 remaining on a 7-yard run by Alexander for a 49-26 lead. A 1-yard scoring pass from Stepina to Smith with 3:09 left pushed Millikin to within 49-32.
Bauer led the Titans through the air on 22-of-34 passing for 305 yards and three touchdowns. Healy caught 9 passes for 94 yards and a touchdown. Alexander rushed for 144 yards on 31 attempts with three touchdowns.
For Millikin, Stepina was 26-of-46 for 315 yards and four touchdowns with three interceptions. Perry was his leading target with 132 yards on 11 receptions and a touchdown. George Jimerson rushed 11 times for 89 yards.
The Titans host another team chasing them in the CCIW standings as North Central (7-1, 6-1) visits Tucci Stadium on Saturday at 1 p.m. The game can be heard live on WJBC.com.
Greg Halbleib can be reached at greg@wjbc.com.