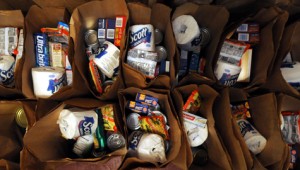 By Blake Haas
BLOOMINGTON – Forget waiting in line to check out, shopping in Bloomington-Normal just got a whole lot easier.
Hy-Vee announced a new partnership on Tuesday with two national online grocery delivery services, Instacart and Shipt, to expand Hy-Vee's delivery footprint and provide new and convenient shopping options to Hy-Vee customers in more than two dozen markets including Bloomington-Normal starting July 24.
"Shoppers in Bloomington would be able to use our Hy-Vee isles online if they haven't done so already," said Amy McCoy Director of Communications for Hy-Vee. "With having Instacart available they have another option to do online shopping. Instacart is also able to do same day delivery just like Hy-Vee Aisles Online. In some instances Instacart will have a wider delivery area than we [Hy-Vee] does, so it is just another way that we can provide personalized delivery options to our customers."
Shoppers through the Twin Cities can order goods through the Hy-Vee website or through the Instacart app., but fees will apply.
"When you sign up with Instacart they do have membership fees, so you will want to check out Instacart.com and find out what their arrangements are for those memberships or for individual deliveries," added McCoy.
McCoy noted that each delivery service has their own shoppers that will shop at Hy-Vee stores and deliver orders, and the shopper can choose to tip them with your order or in cash when they arrive. Once an order is placed, the shopper will be notified of the status and delivery arrival times.
"They [shoppers] go through Instacart and they can order on their app or they can go online to [the Instacart] website and they will go ahead and do all of the ordering and transactions through Instacart," added McCoy. "Instacart has their own shoppers that goes into the Hy-Vee stores and choose the items that the Hy-Vee stores and then do the delivery as well."
McCoy noted that items that Hy-Vee offers through the Hy-Vee Aisles Online catalog will be available through the delivery services and will follow in-store pricing. Hy-Vee's Fuel Saver and Perks program, and other special promotions, will continue to be offered in Hy-Vee stores and through Hy-Vee Aisles Online, but will not be available through Instacart or Shipt at this time.
Blake Haas can be reached at Blake.haas@cumulus.com.