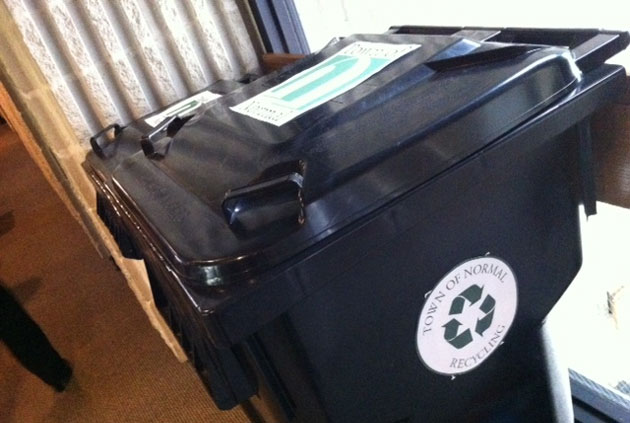 By Howard Packowitz
NORMAL – Landlords of apartments and mobile homes will have to provide on-site recycling for their residents following action Monday night by Normal's Town Council.
The council adopted the ordinance on a 4-2 vote despite objections from Steve Snyder, co-owner of Ironwood Gardens, Normal's largest multifamily development with 454 apartments.
"The ordinance as proposed is burdensome and expensive to landlords, and needs to be defeated," said Snyder.
He called the measure a "one-size-fits-all" mandate that could eliminate up to 28 parking spaces if a recycling bin has to be placed in each of the property's 14 dumpster areas. Snyder says there's no way to control whether tenants will dump non-recyclable items in the containers.
Councilman R.C. McBride says tenants want the service and there will be cost savings by reducing trash sent to the landfill.
"It makes economic sense. It makes environmental and sustainable sense. It seems to be kind of a no-brainer," said McBride.
Council member Kathleen Lorenz voted no, saying the process lacked input of real world experiences.
"I think we do have a common goal here, but it's the process, and sometimes the process and how you get someplace is just as important as the goal itself," Lorenz said.
Councilman Jeff Fritzen also urged patience, suggesting a pilot program come first.
"We've been a community that has embraced the idea of recycling and diversion of materials from the landfills, but we've also been a community that's shown patience with that process," said Fritzen.
Council member Scott Preston indicated earlier that he objected to the ordinance, but he did not attend Monday night's meeting.
Landlords have until August of next year to provide recycling bins and hire private contractors to collect the recyclables each week. Violators will be subject to $100 daily fines.
Howard Packowitz can be reached at howard.packowitz@cumulus.com