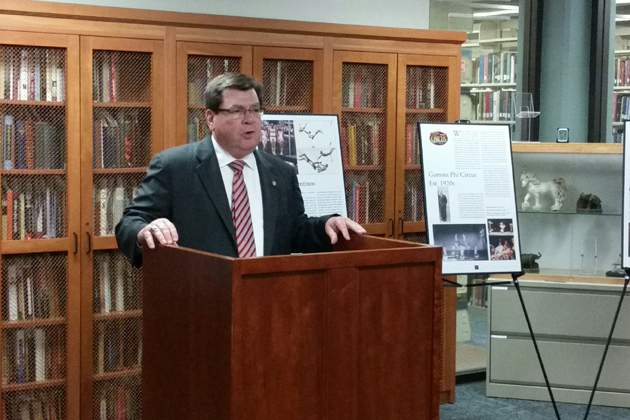 By Howard Packowitz
NORMAL – Illinois State University President Larry Dietz is using social media to describe what he calls the "robust" safety and security measures in place to prevent tragedies like the mass shooting that killed 17 people at a Florida high school.
In a note to students, faculty, and staff that was posted on Facebook, Dietz said the most carefully laid plans can't stop all acts of violence.
"We are shocked and saddened by violent acts and shootings at public places and schools across the nation. Those incidents remind us, once again, that campus safety and preparedness is a vital community effort," said Dietz.
He said emergency management staff and ISU administrators continually review plans to make sure they're up-to-date and they incorporate best practices for campus safety.
Dietz said the university conducts drills throughout the year involving local police, fire departments, and other emergency responders.
"Those drills and exercises involve personnel from many offices across campus, as well as local law enforcement, fire service, and other emergency response agencies. The University's state-of-the-art Emergency Operations Center allows public safety officials and campus leaders to coordinate emergency response efforts from a central location," said Dietz.
The president noted ISU maintains a weapons-and-firearm free policy, and has a variety of places to report incidents or share concerns about people in distress or exhibiting harmful behavior.
"In support of the national 'If You See Something, Say Something' campaign, Illinois State provides a variety of avenues for reporting incidents and sharing concerns. Care teams on campus are available to provide assistance to faculty, staff, and students who are in distress or exhibiting behavior that may be harmful to themselves or others,' Dietz wrote.
Dietz also urged the campus community to sign up for ISU's alert system that is supposed to provide timely information during emergency situations.
"I also urge you to familiarize yourselves with the Emergency Guide, which outlines steps to be taken if an emergency situation should arise. Flipchart versions of the guide are located in classrooms and offices throughout campus and it is part of the Bird Watch guide from the Illinois State University app.," President Dietz also said.
Howard Packowitz can be reached at howard.packowitz@cumulus.com