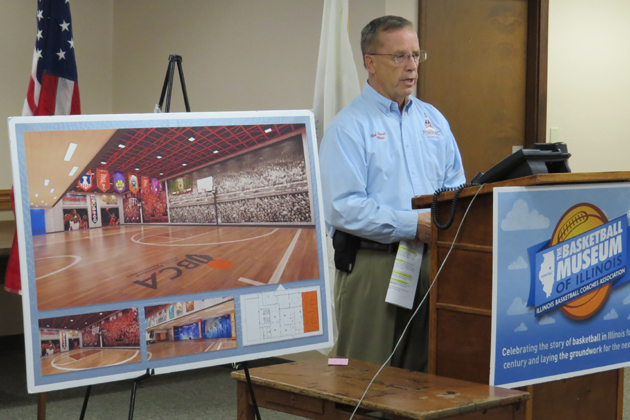 By Greg Halbleib
PONTIAC – The Illinois Basketball Coaches Association is ramping up its efforts to establish a state hoops museum.
Association and city leaders today said fundraising continues for the Basketball Museum of Illinois, planned for the former K-Mart plaza in Pontiac. Initial plans were announced one year ago. Pontiac Mayor Bob Russell said the museum will be an asset to the city and the entire state while utilizing the former K-Mart building.
"The owner saw this opportunity as a once-in-a-lifetime opportunity to build this plaza back up," Russell said. "He said we already have 20 retail stores interested in being next to this."
The IBCA's Bruce Firchau said a floor plan for the museum has been developed, which includes interactive exhibits and plenty of memorabilia, some of which has already been obtained.
"Our oldest basketball we have is from 1920 and Mt. Vernon High School from the state championship game," Firchau said. "We've got the old scoreboard that the clock glows red, in mint condition, from the old Springfield Armory. It's a monster. We have six seats from the old Huff Gym (University of Illinois) with the fedora hat racks underneath. We can create the atmosphere."
Interactive exhibits are also planned.
Firchau says efforts continue to raise $4 million to launch the project. He would not commit to a target date for the museum's opening, but city and project leaders says they hope to have the facility ready sometime next year.
Greg Halbleib can be reached at greg@wjbc.com.