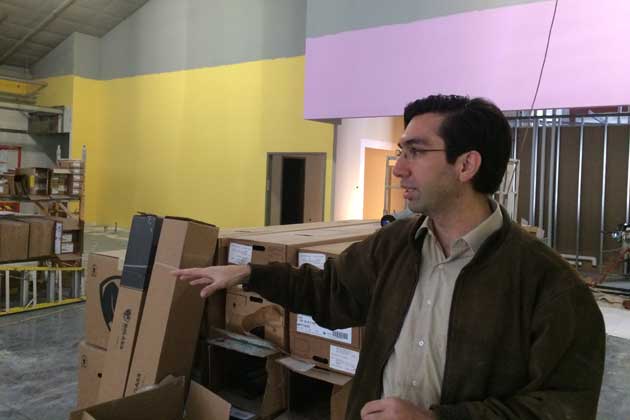 By Eric Stock
BLOOMINGTON – Hardly anything that's green has been growing during the winter months, but Bloomington's new Green Top Grocery has sprouted out of the ground.
After breaking ground last July, the shell covering the Twin Cities' first customer-owned grocery store is finished. General manager Michael Pennington said the store is on target to open in late spring.
"It was kind of surprising how quickly the building came up," Pennington said of the construction work.
Catalyst Construction of Bloomington is the contractor for the project.
The $3.6 million facility at 921 E. Washington St. will be a full service grocery store with a deli, a mezzanine for customer seating and space for cooking classes.
"Once the building started going up and people saw this was really happening, this was a physical thing in the community then there wasn't any more question whether this was a pie in the sky," Pennington said.
He added the goal is provide the community improved accessed to health and affordable food from local farmers.
"I'm most impressed by the level of engagement that the community has for the project," Pennington said. "This is a big deal."
While the Twin Cities has more than a dozen grocery stores and some of them specialty stores, Pennington says he believes Green Top will fill a community void.
"We bring something of value that's not being met right now, a support for local farmers and producers at a level that no other grocery store is currently meeting," Pennington said.
The store's owners define local as anything produced within 100 miles.
Green Top is fully funded with more than 1,500 owner, many of them have loaned money for the startup. The store is in the process of hiring close to three dozen workers.
Eric Stock can be reached at eric.stock@cumulus.com.