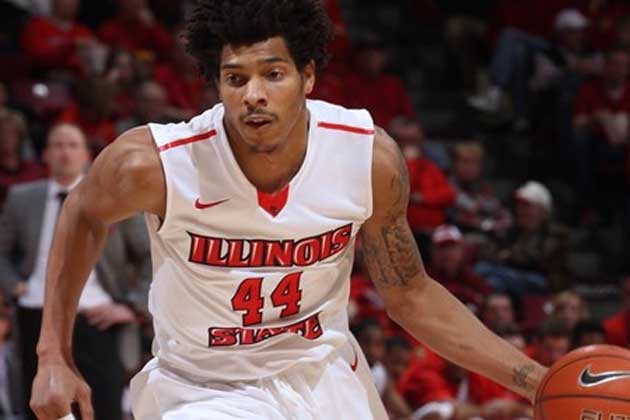 By ISU Sports Information
ST. LOUIS – Illinois State senior guard DeVaughn Akoon-Purcell is a 2015-16 Missouri Valley Conference Preseason Team selection, and the Redbirds are tabbed to finish fourth in the league according to the MVC Preseason Poll, as compiled from votes by MVC sports information directors, media and coaches.
PODCAST: Listen to Dick Luedke's interviews with ISU coach Dan Muller here and Akoon-Purcell here.
Joining Akoon-Purcell on the five-person preseason team are Wichita State's Ron Baker and Fred VanVleet, and Evansville's D.J. Balentine and Egidijus Mockevicius. As a junior at Illinois State last season, Akoon-Purcell led all Missouri Valley Conference newcomers in scoring, while ranking second on the team and seventh in the league with an average of 12.8 points per game in 2014-15. The Orlando, Florida, native finished the season as ISU's leading rebounder, averaging 5.6 boards per contest.
Despite missing seven games due to a broken hand, Akoon-Purcell reached double-digit scoring in 20 of his 28 contests. He also earned a team-best two double-doubles, with 18 starts. Akoon-Purcell was named MVC Newcomer of the Year, while also garnering MVC All-Newcomer Team recognition. He is the first Redbird to earn MVC Preseason Team accolades since Jackie Carmichael was named to the preseason team before the 2012-13 campaign.
As a team, the 2015-16 Redbirds return 50.6 percent of their scoring, 54.5 percent of their rebounding and 61.8 percent of their assists and steals from last season with a balance of six returners and eight newcomers. Last year's team (22-13, 11-7 (T3rd) MVC) earned an at-large bid to the National Invitation Tournament (NIT) and recorded a first-round victory over Green Bay. Illinois State ended the year by winning seven of its final nine games, including a triumph over No. 8 Wichita State in the MVC Tournament semifinals, marking ISU's fourth win over a Top-25 team in as many seasons.
Wichita State (429 points) is the preseason favorite to win the league this season, followed by Evansville (350 points) in second place and Northern Iowa (336 points) in third. Illinois State earned 323 points in the MVC Preseason Poll for fourth place, followed by Loyola (267 points), Indiana State (218), Drake (165), Missouri State (127), Southern Illinois (101) and Bradley (49).
Illinois State's fourth-place spot in the MVC Preseason Poll marks the Redbirds' highest predicted finish since being picked second in the 2012-13 poll. Since the MVC Preseason Poll began in 1985-86, the Redbirds have surpassed their preseason ranking in the final MVC standings 13 times, and they have met their preseason prediction seven times, including two first-place forecasts and finishes in 1996-97 and 1997-98. ISU has ended the regular season at or above its preseason ranking in nine of its last 11 seasons, including last year's tie for third following a fifth-place prediction.
This is the fifth time that Illinois State has been picked to finish fourth in the MVC Preseason Poll, with the other four fourth-place selections occurring in 1985-86, 1989-90, 1992-93 and 2002-03. After being tabbed fourth prior to the 1989-90 season, the Redbirds went on to earn an 18-13 overall record and a 9-5 MVC mark en route to a second-place league finish, an MVC Tournament championship and a bid to the NCAA Tournament. Following a fourth-place prediction in 1992-93, ISU won the MVC regular-season title by going 19-10 overall and 13-5 in the league.
The 2015-16 Redbirds will host their lone exhibition game Sunday, Nov. 8 at 2 p.m. versus Southern Indiana on Doug Collins Court at Redbird Arena. ISU will then tip off the regular season at 2015 NCAA qualifier San Diego State Friday, Nov. 13, before returning to Redbird Arena for the home opener against Morehead State on Nov. 16 at 7 p.m.