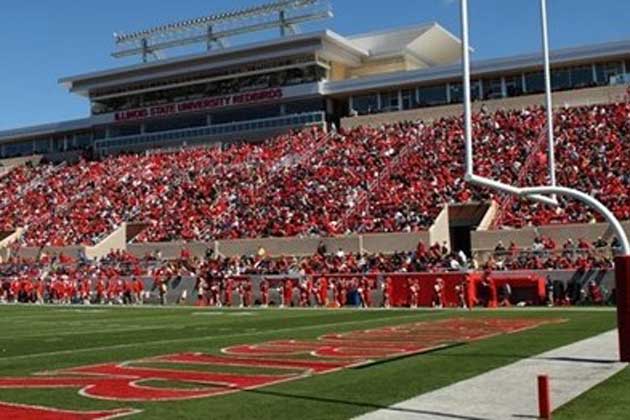 By Eric Stock
NORMAL – A sellout crowd of 13,391 fans saw Illinois State's football game at Hancock Stadium on Saturday.
Now, you can get an up close look at every one of them.
ISU has a gigapixel photo of the home stands that was taken between the first and second quarters of the Redbirds' win over Northern Iowa. It allows fans to zoom in and find themselves in the seats.
PODCAST: Listen to Scott and Colleen's interview with Lyons on WJBC.
"Hopefully some people will buy the picture," Director of Athletics Larry Lyons said. "They also want you to go in and tag yourself, on Facebook and social media. It's just a fun interactive thing."
Lyons told WJBC's Scott Laughlin the photo was taken by Blakeway Panoramas of Minnesota which ISU used for a similar photo at the FCS championship game in Frisco, Tex. in January.
Stanley Cup
If you were disappointed you didn't know about the Stanley Cup was coming to the Hancock Stadium last Saturday, the Illinois State athletics office didn't know until the last minute.
Lyons said he got an unexpected call from Blackhawks senior vice president for business operations and ISU alum Jay Blunk last week.
"We had been talking for a couple of months about if there was an opportunity. It goes all over the world," Lyons said. "(Blunk) called me on Wednesday and said the schedule had changed, we can have it," Lyons said.
But Lyons said they didn't publicize it because it would only be on display for a short time at the Kaufmann Football Building and the stadium before going back to Chicago for a Blackhawks' preseason game that night.
Blunk has also brought the trophy to Danvers Days in August as he's done in previous championship seasons. The Blackhawks raise their championship banner before their season opener on Wednesday night.
Eric Stock can be reached at eric.stock@cumulus.com.